Elton Tsang Wins One Drop Extravaganza
Posted on November 9, 2016 in Darvin Moon Poker
There were three days of action that finally culminated into a final winner for the 2016 Monte Carlo One Drop Extravaganza.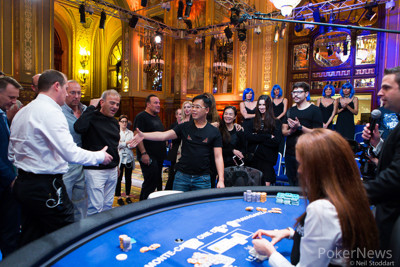 The total amount won was €11,111,111. The winner was Elton Tsang, who won the event. He is based out of Hong Kong, but Canadian in origin. This prize money has been the third largest amount in the world. He has been able to overcome about 28 entries in order to win the massive amount. The scale of the prize has brought on several achievements for Elton. For instance, he has moved from being one of the three thousand competitors out there for the 21st world title holder position. He was able to secure victory by defeating opponents like James Bord, Andrew Pantling, Haralabos Voulgaris, Rick Salomon, Brandon Steven, Cary Katz and Anatoly Gurtovoy.
The tournament was not an ordinary one. The final table was definitely reached with a lot of hard work. Players who were part of the final table were escorted with music as well as and a ceremonial introduction and performance was done by One Drop Foundation. The action did not take long to start off. After two hands were dealt Elton Tsang took up the lead. Initially Andrew Pantling was in a superior position. Pantling clashed with Elton in the second round again. Tsang however finished the second hand with a big lead in the chips.
Haralabos Voulgaris came into play with the short stack. However, it did not favor him very well. He was shoved off is advantageous position by Anatoly. Soon there were only seven players remained among which only six would get paid. The bubble for the prize money was a hard one to obtain, but it was definitely worth striving for. The event was definitely worth checking out for the spectators and the grand win was a ceremonial end to the mega event.